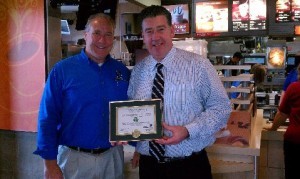 Ron Saf with Total Energy Concepts presents Green Certification to Hugh O'Reilly, owner of Ottawa McDonald's
Ottawa KS – Hugh O'Reilly, owner of McDonald's of Ottawa, recently accepted recognition for "Going Green." Hugh recently teamed up with Ron Saf of  Total Energy Concepts to save energy with the installation of Power Protection, and CoolPro units. The power protection unit not only protects customers from lighting strikes, it supports your system running at optimum levels without the typical "dips" and surges" that reduce efficiency. The Cool Pro unit is a retrofit solution that significantly reduces compressor run-times without affecting temperature. McDonald's of Ottawa can expect a KWh savings of up to 15% with this product alone!
Ron Saf with Total Energy Concepts is excited about the solution provided to McDonald's. "It is a rewarding experience to work with a business that is pro-active in lowering their electrical usage while helping the environment, "  said Saf.
For more information on Total Energy Concepts and its solutions in the Kansas City area, contact:
Ron Saf
515-339-3954
rsaf*AT*totalenergyconcepts.com