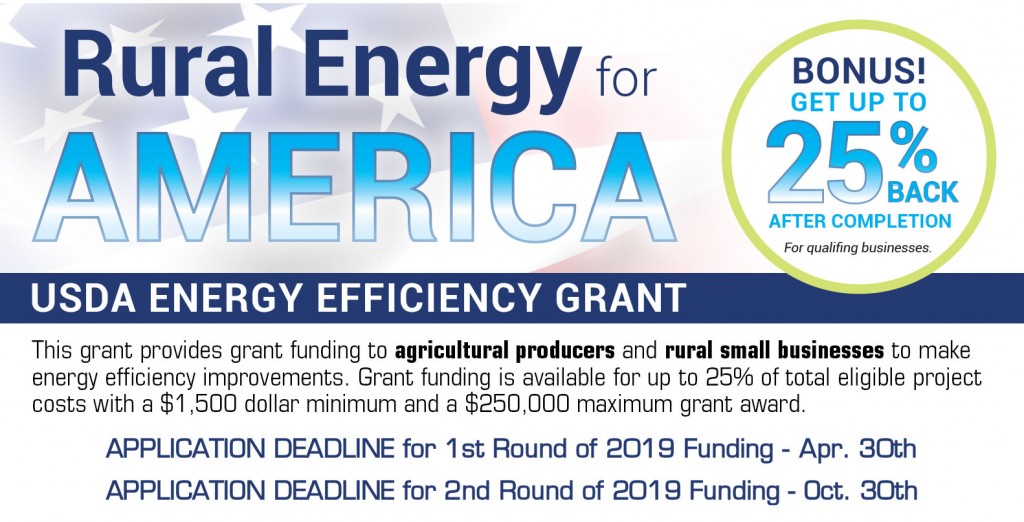 WHAT DOES THIS PROGRAM DO?
Provides grant funding to agricultural producers and rural small businesses to make energy efficiency improvements. Grant funding is available for up to 25% of total eligible project costs with a $1,500 dollar minimum and a $250,000 maximum grant award.
WHO CAN APPLY?
Agricultural producers with at least 50% of gross income coming from agricultural operations
• Small businesses in eligible rural areas.
WHAT IS AN ELIGIBLE RURAL AREA?
• Businesses must be in an area other than a city or town with a population of less than 50,000 inhabitants, or in an urbanized are of larger cities or towns.
• Agricultural producers may be in rural or non-rural areas.
• Eligibility can be checked on the USDA website using the business's address.
WHY DOES THE USDA RURAL DEVELOPMENT DO THIS?
This program helps increase American energy independence by increasing the private sector supply of renewable energy and decreasing the demand for energy through energy efficiency improvements. Over time, these investments can also help lower the cost of energy costs for small businesses and agricultural producers.
HOW DO YOU GET STARTED?
• Sign TEC Purchase Agreement
• Grant Writer to start Application Process – Collects Upfront Application Fee from Customer
– Project Cost < $80,000 = $1,000 Fee
– Project Cost $80K-$200K = $1,500 Fee
– Project Cost > $200K = $2,000 Fee
• Application Submitted to the USDA Office
• Grant Approval Notification
• Customer Receives Grant Incentive Funds
CONTACT TOTAL ENERGY CONCEPTS TO GET STARTED!
866.715.9569