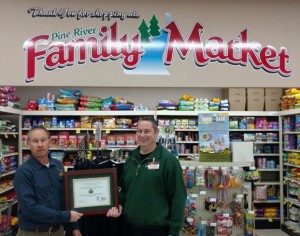 Chuck Welte, owner of Pine River Family Market was searching for a way to reduce his electrical bill and reduce his utility expense. "I have been keeping track of the electrical rate and it always seems to be going up!" said Welte. Like all businesses, when the electrical rate goes up, that directly affects the bottom line and the only way to reverse the effect is to reduce energy consumption.
"I was skeptical at first." said Welte, "What TEC was proposing seemed too good to be true. It has been six months since the TEC System was installed and I am very pleased with the results. My energy consumption is down and my store looks great with the new look." TEC installed a complete Energy Optimization System at this location which included optimizing the Voltage and Current in the facility, as well as a full HVAC and Refrigeration Optimization Package, and finally a full Lighting Retrofit Package with included both fluorescent and LED technology.
"We installed the system in April of 2014 and to date the energy savings is more than projected, but more importantly the store looks great.", said Mark Collette, Regional Energy Specialist with TEC. "It's rewarding to be able to help business owners reduce expenses and get back their bottom line!"
Total Energy Concepts (TEC) is a national leader in power protection, energy management, power quality, refrigeration optimization, facility grounding, and lighting solutions that help companies improve their bottom line by reducing expenses that drastically cut into company profits.
For further information, contact Mark Collette – TEC Regional Energy Specialist at (218) 839-8120 or email at mcollette*AT*totalenergyconcepts.com.