GO GREEN!
Our Environment is important and everyone needs to do their part in helping protect what we have.  Reducing energy consumption is a MAJOR step in the right direction as it directly helps prevent toxic emissions from being released into our atmosphere from power plants.
One Kilo-Watt of Energy Produced = 1.55 pounds of CO2 Emissions into the Air
How Does the TEC System take your facility GREEN?
Lowered Electrical Usage….thereby conserving energy which not only reduces the amount of energy the utility companies need to generate resulting in reduced greenhouse gas emissions and reduced carbon footprints, but it also increases your bottom line.
Increase the Useful Life of Your Equipment….which means less equipment failures and replacements resulting in less waste going to the landfill and also helps improve the bottom line in the form of less expenses.
Umbrella of Electrical Protection….by protecting all of your electrical equipment which helps eliminate costly maintenance and downtime repairs, which ultimately reduces the amount of operation time needed when trying to catch up.
TEC CERTIFIED GREEN PROGRAM
Becoming a TEC Certified GREEN Facility gives you the following benefits:
Going

GREEN

Recognition with a Press Release in a chosen publication(s)
TEC Certified

GREEN

Door Sticker
TEC Certified

GREEN

Wall Plaque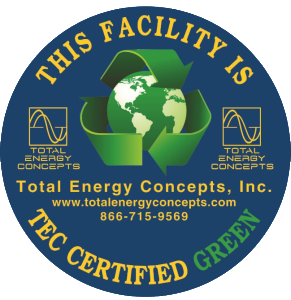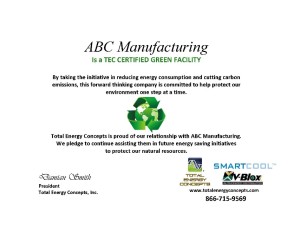 Going Green has never been easier! You save money, save the environment, and support the Green Power and Building Initiative. That is what we call a win/win situation every time! Get your facility TEC Certified Green today and be recognized as a business that appreciates our environment and has done their part in protecting what we have!!!