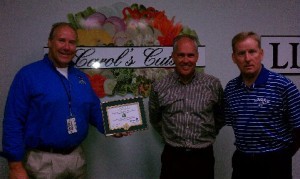 Ron Saf of Total Energy Concepts presents Green Certification to Mike Logan and Scott Danner of Carol's Cuts.
Kansas City, KS – Carol's Cuts, a division of Liberty Fruit Co. Inc recently received certificates of recognition for "Going Green."
Mike Logan V.P of Operations and Scott Danner Chief Operating Officer for Carol's Cuts, recently teamed up with Ron Saf of Total Energy Concepts to save energy with the installation of Power Protection and Power Factor Correction units. These units protect electrical equipment from lightning strikes as well as "dips," "spikes" or otherwise inconsistent voltage sometimes called "dirty power." The net result is optimized voltage and current.
As a result of this upgrade, Carol's Cuts was recognized by Total Energy Concepts and presented with the TEC Green Certification.