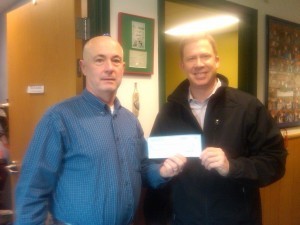 TEC Regional Director, Scott McDonald recently presented a check for $1,295 to Sylvania Area Family Services (SAFS) as part of its annual charity giving program. Accepting the donation for SAFS was its Youth Diversion Program Coordinator, Bob Kolasinski.
"SAFS is extremely thankful for TEC's support and extends their sincere 'thank you' to the entire TEC family," shared McDonald.
About Sylvania Area Family Services
SAFS is an Ohio Non-Profit Excellence Awardee and provides critical safety-net services for families and youth living in the Sylvania, OH area.   The Sylvania-area is comprised of the town of Sylvania and the surrounding communities that make up Sylvania Township.  With an emphasis on Social Services and Youth Services, SAFS provided critical services to over 4,300 Sylvania-area residents in 2012.  This included; emergency food supplies, weekly-supplemental food supplies, Government commodities distribution, holiday meal baskets, utility & rental assistance, an after-school and summer camp program for low-income and at-risk youth, and a Youth Diversion Program for first-time, non-violent offenders.   The Youth Diversion Program has been widely acclaimed by local law enforcement agencies for having a successful program completion rate and low repeat-offender rate.
TEC reserves a portion of the sale of every unit sold throughout the year and contributes the dollars accumulated to charities in each region.