St. Ansgar, IA – L.R. Falk Construction Company recently received certificates of recognition for "Going Green." L.R. Falk's President, Lindsey Falk, CFO John Sheehy, and Lindsey's father Dave recently teamed up with Total Energy Concepts to save energy with the installation of Electrical Power Quality Protection, and the installation of a complete Electrical Motor Power Optimization system solution. These units protect electrical equipment from lightning strikes, dirty power, and poor efficiency. The net result is optimized voltage and current.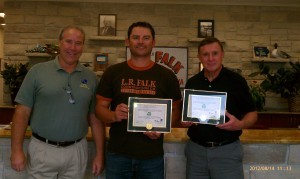 L.R. Falk Construction is doing their part to improve the bottom line and improve our environment. The impact from the facility carbon footprint will be decreased, which is good for everyone.
Ron Saf and Total Energy Concepts is excited about their new partnership with L.R. Falk Construction Company. He said "it is a rewarding experience to work with business professionals that are pro-active in lowering their electrical usage while helping the environment."
Ron Saf is an Energy Specialist at Total Energy Concepts. He can be reached by calling 515-339-3954 or e-mailing rsaf*AT*totalenergyconcepts.com.
To locate an energy specialist in your area, visit the TEC Contact Us page.