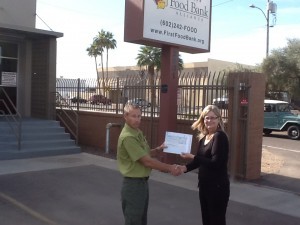 Total Energy Concepts, Arizona division presented St. Mary's Food Bank a $2,100 donation today.
St Mary's Food Bank can provide seven meals into the community with every dollar donated. This donation will allow the Food Bank to provide 14,700 meals to the hungry of Arizona.
Total Energy Concepts is in the electrical energy reduction business and has had great success in Phoenix with large energy consumers.
TEC reserves a portion of the sale of every unit sold throughout the year and contributes the dollars accumulated to charities in each region.