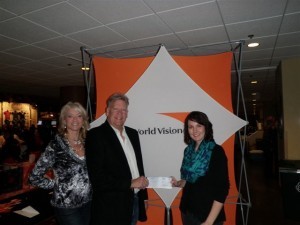 Brian and Delrae Eden presented a  check on behalf of Total Energy Concepts to Jody Anderson of World Vision at The Story Concert held on December 2nd.
World Vision helps  transform communities through child sponsorship The best way to change the  lives of children is to change the world in which they live. And the best  way to change their world is to foster self-sufficiency within their  communities. This is what World Vision child sponsorship does.
Brian  and Delrae have sponsored Zoramendy, a young girl from the  Dominican Republic for the past six years.  "It is heart warming to  have an opportunity to better the lives of a family, to help provide  food, education, and hope on an ongoing basis.  We enjoy seeing  pictures, getting letters and hearing about the blessings our sponsorship  brings.  Knowing how grateful a family is for the most simple human  needs such as water, makes us appreciate how abundantly blessed we all  are."
Thank you to Total Energy Concepts for the opportunity to extend  such generosity!

– Brian and Delrae Eden
TEC reserves a portion of the sale of every unit sold throughout the year and contributes the dollars accumulated to charities in each region.